Fairfield TTC Teens take high Rating Events in NY again
Congratulations to Adam and Anthony for winning expert level rating events in the October WTTC Open USATT event in New York.
Adam won his highest rating event so far in his playing career in a duece in the 5th game U-2350 final nail-biter after finishing second in the same event in September. Anthony repeated as 2050 event champion in a convincing straight games over runner-up Alec Holst who bested Bethany and Fairfield TTC's Sam Medina 3-1 in the semi-final.
Under 2350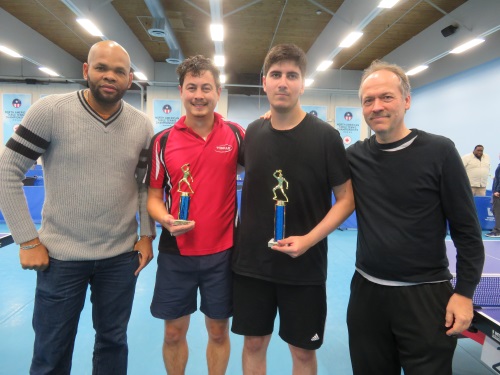 F: Adam Sahar (black shirt above) def. Alex Hohl (-5,6,8,-9,10)
SF: Alex Hohl def. Kelly Liang (-8,8,8,8); Adam Sahar def. Letao Bo (-5,3,5,6)
QF: Alex Hohl, bye; Kelly Liang def. Courage Nanevie (-9,2,9,-7,8); Letao Bo def. Kim Nguyen (4,3,-9,6); Adam Sahar def. Sho Miyazaki (-11,9,-5,5,6)
Under 2050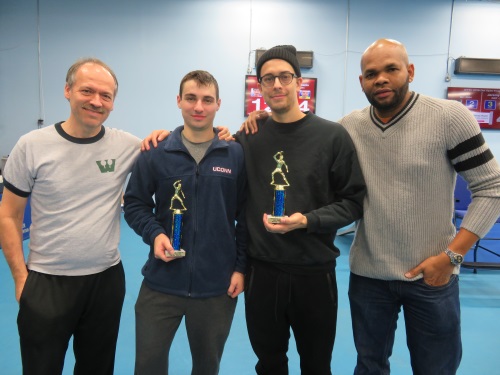 F: Anthony Capasso (above center left) def. Alec Holst (8,7,4)
SF: Anthony Capasso def. Ashwin Kapur (5,-14,3,4); Alec Holst def. Samuel Medina (-9,7,10,6)
QF: Anthony Capasso def. Darius Fahimi (3,14,-5,9); Ashwin Kapur def. Robert Page (8,14,4); Alec Holst def. Amir Khan (-8,11,7,5); Samuel Medina def. Konstantinos Nikopoulos (8,9,10)
Posted by netta_ct at 4:10 PM EDT
Updated: Friday, 2 November 2018 5:01 AM EDT